Muffle Furnace
JLab is renowned Exporters & Manufacturer of Muffle Furnace & Scientific Lab Instruments India, Muffle Furnace Exporters, Muffle Furnace Suppliers India.
Product Code : JL-MF-3997
Operation Temperature:- 1100.C ( 1200.C Max for short time). Maximum energy efficiency is achieved by surrounding the chamber with thermal-efficient alumina fiber ceramic insulation.
View Details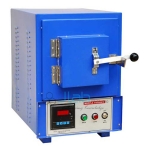 Product Code : JL-MF-3998
Based on the rotating disc-splash plate principal. Unit produces only super fine particles of micron size, which become part of the atmosphere.
View Details