DNA Forensics Lab Investigation Manufacturer,Supplier and Exporter in India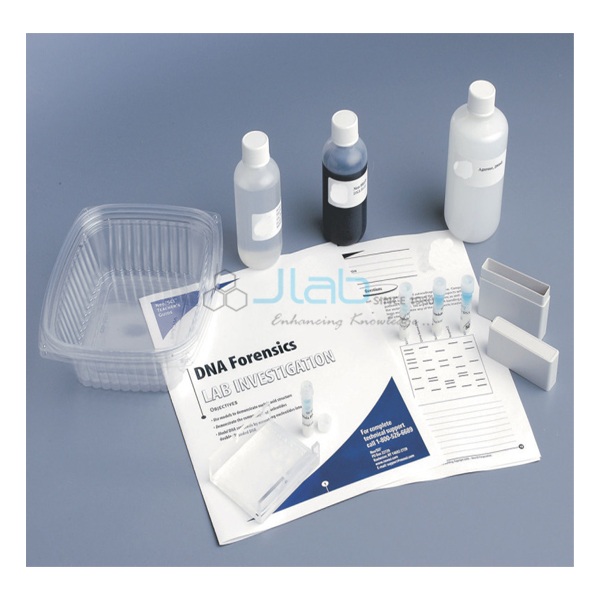 Product Code : JL-FE-6798
Jlab Export is a leading DNA Forensics Lab Investigation Manufacturer,and suppliers in India, DNA Forensics Lab Investigation Manufacturer,and suppliers in South Africa.DNA Forensics Lab Investigation Suppliers in Mozambique,DNA Forensics Lab Investigation A quality product from Jlab ideal for use in School Laboratories in developing countries of Asia, Africa and South Africa in Supplier Kenya, Southern African region, Botswana, Lesotho, Malawi, Angola, Namibia, Zambia, Zimbabwe. Djibouti, Ethiopia,Madagascar, Mauritius, Rwanda, Seychelles, Tanzania and Uganda.
DNA Forensics Lab Investigation
Your students will become forensic scientists as they apply the latest innovations in DNA technology to a scenario-based DNA murder mystery.
They'll also get a 'hands-on' education on DNA structure and extraction, gel electrophoresis and autoradiography.
This activity brings the 'real-world' applications of biotechnology to life and will simulate discussion on the ethical considerations associated with the use of cutting-edge technology.
Contains materials for up to 40 students.
They'll compare the electrophoretic results of DNA samples from a 'crime scene' with those from various suspects.
Using a simplified DNA fingerprinting procedure, they'll then solve the crime based upon the fragment patterns revealed on the gel.
In the process they'll learn the basic concepts of DNA fingerprinting as well as insight into why this revolutionary process is so accurate.
Download as Pdf