Pharmacology Instruments Manufacturer, Suppliers and Exporter in India
Jlab have emerged Manufacturer, Exporters and Suppliers of pharmacology Equipment such as Animal Holders, Boss Heads, Stands And Fixing Devices, Brodie Operating Table, Brodie Starling Kymograph, Four Unit Organ Bath, Frog Board, Frog Heart Chamber, Hand Grip Dynamometer, Heart Clips, Induction Coil, Isolated Organ Baths, Student Kymographs-Digital, Student Electrical Kymographs, Muscle Twitch Assembly, Student Nerve-Muscle Assembly, Cylinders and Paper, Smoking & Varnishing Outfits, Long Paper Extension, Spirometer, Power Table, Open Sided X- Block, Myographic Lever, Tambours, Varnishing Tray, Long Paper Smoker & Varnisher, Time Recording Devices, Manometers etc. Pharmacology Instruments Manufacturer, Pharmacology Instruments Suppliers, Pharmacology Instruments Exporter, Analytical Research Equipments, Pharmacology Instruments India, Research Equipments, Analytical Equipments India.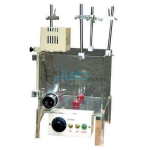 Product Code : JL-PI-2467
Apparatus for Isolated Uterus, Intestine having a complete Teak base board / Acrylic sheet & bath.
View Details