Solid Liquid Extraction Packed Bed Type Manufacturer,Supplier and Exporter in India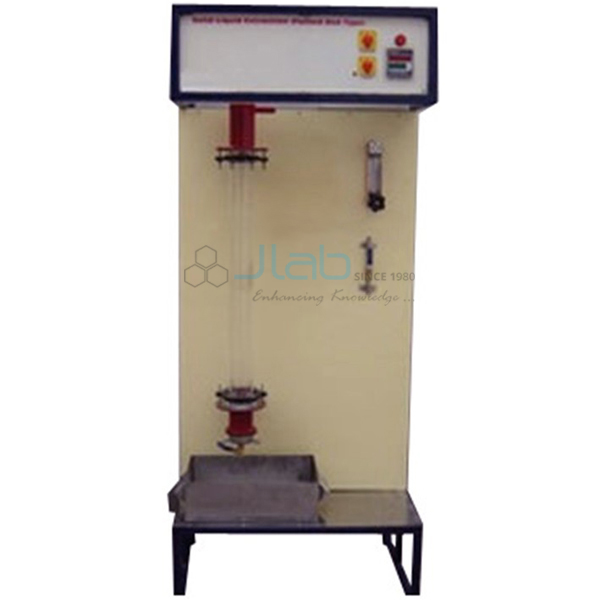 Product Code : JL-FMAHLE-7321

Solid-Liquid Extraction Packed Bed Type
Description:-
This setup is designed to study the performance characteristics of solvent extraction of a particular component from a packed bed of solid material.
The glass column is fitted with SS mesh to support the solid material.
The apparatus allows the study of such systems as water/inorganic salts, water/sugar bed, methylene chloride/vegetable oil etc.
The solvent is introduced near the bottom of the column and it flows upward counter-currently to the solids.
Solvent feed tank is kept in a bath fitted with a heater and digital temperature controller is used to maintain the constant temperature.
A pump supplies the solvent and flow rate is monitored by means of a Rota meter.
Specifications:-
Extraction Column: Material Borosilicate Glass.
Solvent Flow Measurement: Rota meter.
Heater: Nichrome wire heater
Temperature Sensor: RTD PT-100 Type.
Solvent Tank: Made of Stainless Steel, Capacity 30 Ltrs. Double wall.
Solvent circulation: Magnetic Pump made of Polypropylene to Circulate solvent.
Electricity Supply: 1 Phase, 220 V AC, 1.5 kW.
Digital Temp. Controller: 0-199.9 deg C (For Hot Water Bath).
The whole set-up is ingeniously designed and schematically arranged on a powder-coated rigid structure.
Solvent Flow Measurement: Rota Meter.
Download as Pdf