Basic PLC Trainer Manufacturer,Supplier and Exporter in India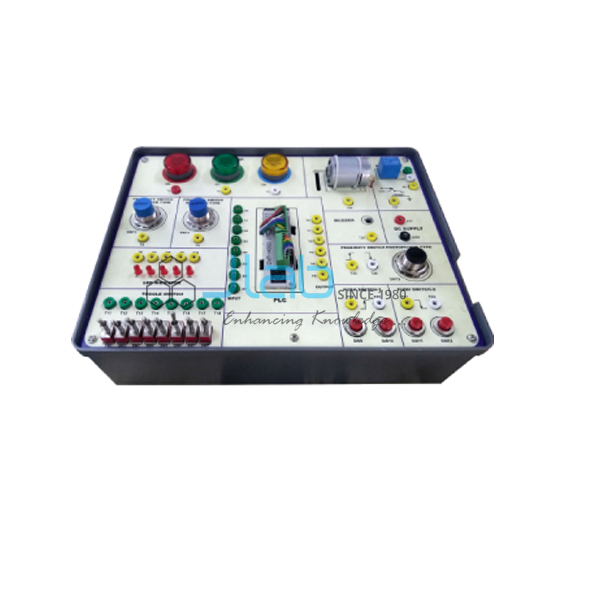 Product Code : JL-FOT-10256
Jlab Export is a leading Basic PLC Trainer Manufacturer,and suppliers in India, Basic PLC Trainer Manufacturer,and suppliers in South Africa.Basic PLC Trainer Suppliers in Mozambique,Basic PLC Trainer A quality product from Jlab ideal for use in School Laboratories in developing countries of Asia, Africa and South Africa in Supplier Kenya, Southern African region, Botswana, Lesotho, Malawi, Angola, Namibia, Zambia, Zimbabwe. Djibouti, Ethiopia,Madagascar, Mauritius, Rwanda, Seychelles, Tanzania and Uganda.
Basic PLC Trainer
PLC Controller panel consist of 32 bit CPU controller, 8 Digital input ports, 6 Digital Output ports.
Program capacity 8K step/data register 5K words, 4 points of 10Khz pulse output, 8 points of high speed counter 20Khz/4 points & 10Khz/4points.
Supports modbus, RTU protocol, RS-232 link for PC communication.
Digital Input Simulation consist of 6 bit digital input toggle switch provided for Hi & Lo output & 2 bit digital input Push switch provided for Hi & Lo output.
High output level is 24V dc & Low output level is 0V, +24V DC supply in built provided.
Digital Output Simulation consists of 8 Led indicators.
On board sensors provided like Capacitive Pickup, Inductive Pickup, Photo Pickup .
On board Limit Switch, Emergency Switch, DC Motor, Stepper Motor, Buzzer, Relay Red & Green Led Lamp are provided.
Basic PLC Trainer India, Basic PLC Trainer Exporters, Electronics Instruments Basic PLC Trainer, Basic PLC Trainer Suppliers, Buy Basic PLC Trainer, Buy Basic PLC Trainer Online India, Didactic, Didactic Electronics Instruments, Electronics Instruments Exporters India, Electronics Instruments Suppliers, Electronics Instruments Manufacturer
Download as Pdf