Inverted Microscope Manufacturer,Supplier and Exporter in India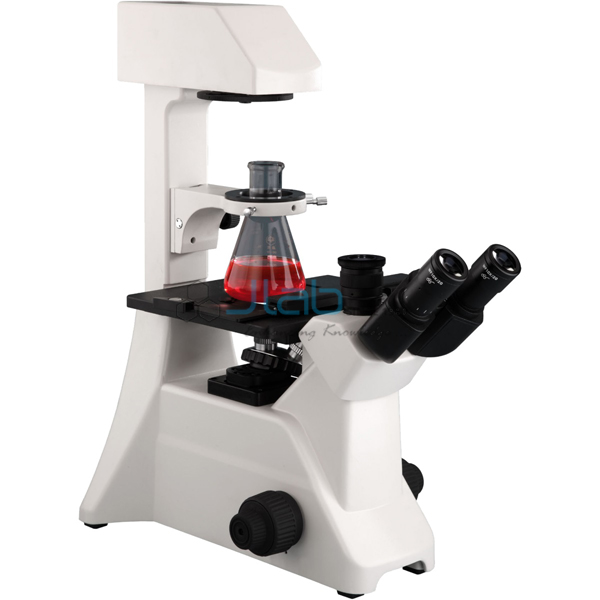 Product Code : JL-M-8147
Jlab Export is a leading Inverted Microscope Manufacturer,and suppliers in India, Inverted Microscope Manufacturer,and suppliers in South Africa.Inverted Microscope Suppliers in Mozambique,Inverted Microscope A quality product from Jlab ideal for use in School Laboratories in developing countries of Asia, Africa and South Africa in Supplier Kenya, Southern African region, Botswana, Lesotho, Malawi, Angola, Namibia, Zambia, Zimbabwe. Djibouti, Ethiopia,Madagascar, Mauritius, Rwanda, Seychelles, Tanzania and Uganda.
Inverted Microscope
Description:-
The microscope comes with phase contrast objectives & condenser, 35mm and 65mm culture dish holders, and a trinocular photo port which allows the user to capture images with an add-on camera.
JLab Inverted Microscope offers versatility at a great price for the college, university or clinical user.
Ideal for routine viewing of cell cultures, this microscope comes standard with high-quality plan objectives for exceptional image quality.
Specification:-
Viewing Head

JLab Tinocular head ensures eyepiece tube length when interpupillary distance adjustments are made

100/0 or 20/80 light distribution (Binocular/ Camera port)

45° inclined

Eyepiece

Wide field (WF)10x/20mm; High eyepoint

Third centering piece included

Nosepiece

Quadruple objective nosepiece accepts four objectives

The nosepiece runs on ball bearings with internal click stops so that the image remains centered after each magnification change.

Filter

Blue, green and gray

Objectives

10X Long working distance, plan objective, W.D.=7.9mm

25X Long working distance, plan objective, W.D.=5.0 mm

40X Long working distance, plan objective, W.D.=3.0mm

Phase Contrast Objective

25X, Ph+, Long working distance, plan objective, W.D.=5.0mm

25X, Relief Phase Slide

Focusing System

Low position coaxial coarse and fine focus knobs

Stage

Stage size: 206mmx170mm

Smooth X/Y calibrated movement with cross travel range: 128mm x 80mm ( left or right operation exchangeable)

Condenser

Slide Relief Phase Contrast Condenser N.A.0.35 W.D.=45mm

Illumination

Built-in Kohler illumination with field diaphragm, provides uniformly bright light

6V/20W Halogen lamp

Light intensity control

Design

Ergonomically designed metal frame for stability and durability

Arm and base made from one piece construction

Antifungal treatment prevents fungal growth
Download as Pdf