Logic Lab Manufacturer,Supplier and Exporter in India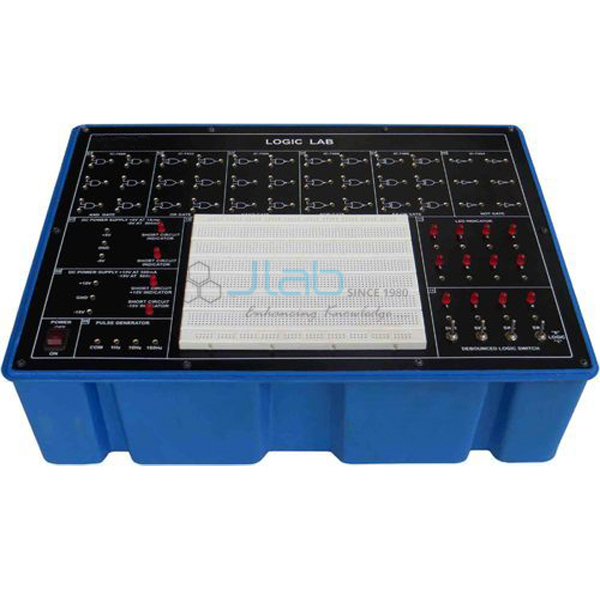 Product Code : JL-BT-1484
Jlab Export is a leading Logic Lab Manufacturer,and suppliers in India, Logic Lab Manufacturer,and suppliers in South Africa.Logic Lab Suppliers in Mozambique,Logic Lab A quality product from Jlab ideal for use in School Laboratories in developing countries of Asia, Africa and South Africa in Supplier Kenya, Southern African region, Botswana, Lesotho, Malawi, Angola, Namibia, Zambia, Zimbabwe. Djibouti, Ethiopia,Madagascar, Mauritius, Rwanda, Seychelles, Tanzania and Uganda.
Logic Lab
The digital lab covers regular digital circuits by solder-less interconnections on breadboard and as well as compatible with all optional modules through use of 2mm brass terminals and patch cords.
The design of the equipment is easy to operate and understand.
It is equipped with various kinds of basic logic gates, debounced logical switches, LED indicators, DC power supply with short circuit protection, pulse generator and solder less bread board.
The unit housed in attractive enclosure is supplied with mains cord, patch cords, Instruction manual.
Learners in high schools, Polytechnic Colleges and Universities, can use the trainer as independent activity tool.
Experimental Coverage:
Logic gates operation
To prove De-Morgan's theorem with Boolean logic equations
Binary to Gray code conversion
Gray code to Binary conversion
Binary to Excess-3 code conversion
Binary Adder and Sub tractor
Binary Multiplier
EX-OR gate implementation
Application of EX-OR gate
To verify the dual nature of Logic Gates
Study of Flip-Flops RS, JK,
Specifications:
Basic Logic Gate Units:
It contains 6 kinds of logic gates, i.e. AND GATE X 6, OR GATE X 6, NAND GATE X 6, NOR GATE X 6, XOR GATE X 3, NOT GATE X 3
Input voltage of Hl level > 2.25V Input voltage of LO level < 0.8V
DC Power Supply:
Output voltage +5V ± 5% Max.
Output current 1 Amp. Line regulation<50mV Load regulation < 100mV
Output voltage – 5V ± 5% Max.
Output current 500 mA Line regulation<25mV Load regulation < 30mV
Output voltage ± 15V ± 5%Max.
Output current 500 mA
Line regulation<150mV
Load regulation<150mV
Equipped with short circuit protection and indicator
Pulse Generator:
3 kinds of time interval, 1 sec, 0.1 sec, 0.01 sec. Output voltage +5V
Debounced Logic Switch:
4 No's HI / LO LED Indicator:
8 Bits LED Output Indicator, Max.
Input Voltage<= 15V DC
Breadboard:
Interconnected Solder less Breadboard having 2120 tie points, fitting all DIP sizes and all components with lead and solid wire AWG 22-30 (0.3 – 0.8 mm)
Accessories:
Mains Cord
Instruction Manual
Red & Black patch cords (2mm with Pin) 10 each
Red & Black patch cord (Pin to Pin) 10 each
Wire 24/25 SWG
1Meter each 5 Color
Logic Lab Manufacturer India, Logic Lab Exporters, Electronics Logic Lab, Buy Logic Lab Online India, Educational Equipments for School Lab, Laboratory Equipment Suppliers, Didactic, Didactic Logic Lab, Breadboard Trainers Exporters, Scientific Instrument and Equipment Manufacturer.
Download as Pdf