COD Digestor Manufacturer,Supplier and Exporter in India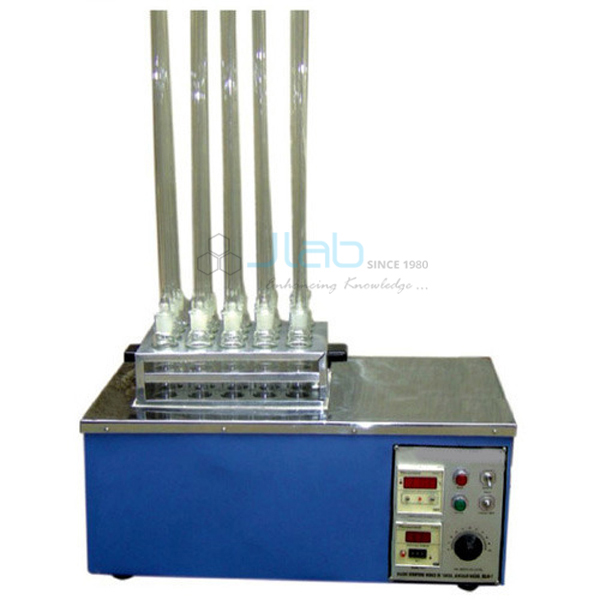 Product Code : JL-RE-3999
Jlab Export is a leading COD Digestor Manufacturer,and suppliers in India, COD Digestor Manufacturer,and suppliers in South Africa.COD Digestor Suppliers in Mozambique,COD Digestor A quality product from Jlab ideal for use in School Laboratories in developing countries of Asia, Africa and South Africa in Supplier Kenya, Southern African region, Botswana, Lesotho, Malawi, Angola, Namibia, Zambia, Zimbabwe. Djibouti, Ethiopia,Madagascar, Mauritius, Rwanda, Seychelles, Tanzania and Uganda.
COD Digestor
COD Digester is the most accepted Thermoreactor for Determination of Chemical Oxygen Demand in Various Substances.
Chemical Oxygen Demand (COD) is a Measure of the Capacity of Water to Consume Oxygen During the Decomposition of Organic Matter and the Oxidation of Inorganic Chemicals such as Ammonia and Nitrite.
COD Measurements are Commonly made on Samples of Waste Waters or of Natural Waters Contaminated by Domestic or Industrial Wastes.
Chemical Oxygen Demand is Measured as a Standardized Laboratory assay in which a closed Water Sample is Incubated with a Strong Chemical Oxidant Under Specific Conditions of Temperature and for a Particular Period of Time.
Download as Pdf