Egg Incubator Manufacturer,Supplier and Exporter in India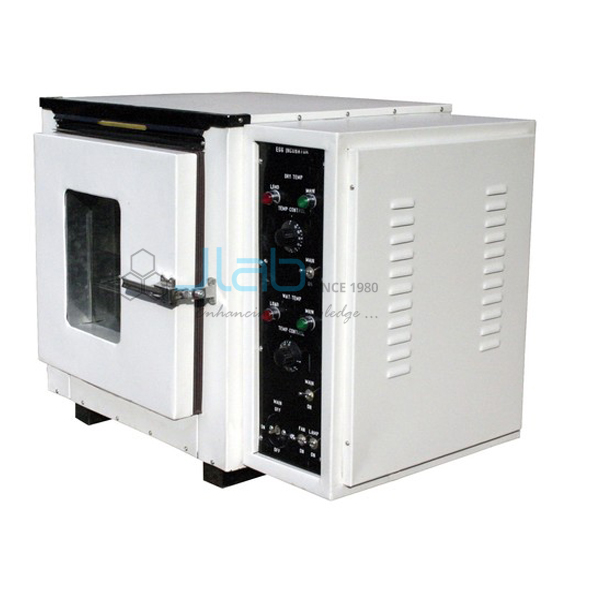 Product Code : JL-RE-2078
Jlab Export is a leading Egg Incubator Manufacturer,and suppliers in India, Egg Incubator Manufacturer,and suppliers in South Africa.Egg Incubator Suppliers in Mozambique,Egg Incubator in Supplier Kenya, Southren African region, Botswana, Lesotho, Malawi, Angola, Namibia, Zambia, Zimbabwe. Djibouti, Ethiopia, Kenya, Madagascar, Mauritius, Rwanda, Seychelles, Tanzania and Uganda.
Egg Incubator
Outer wall is made of M.S. Sheet duly finished in white staving enamel/powder coated paint with mat finished colour combination and inside stainless steel.
The gap between inner and outer wall is filled with high grade mineral glass wool.
Temperature range from ambient to 70degC is controlled by EGO/ JUMO German capillary type thermostat with an accuracy of +/- 0.5degC.
The unit is provided with manual tilting device, so as to tilt the tray holding the eggs.
To work on 220/230 volts A.C. Supply.
Egg Incubator Manufacturer, Egg Incubator Suppliers, Egg Incubator India, Egg Incubator Exporter, buy Egg Incubator, Egg Incubator, Analytical Research Equipments, buy Egg Incubator Online India
Capacity
50 eggs.
100 eggs.
200 eggs.
250 eggs.
Download as Pdf