Voltameter Manufacturer, Suppliers and Exporter in India
Jlab Export is a leading Voltameter Manufacturer,and suppliers in India, Voltameter Manufacturer,and suppliers in South Africa.Voltameter Suppliers in Mozambique,Voltameter in Supplier Kenya, Southren African region, Botswana, Lesotho, Malawi, Angola, Namibia, Zambia, Zimbabwe. Djibouti, Ethiopia, Kenya, Madagascar, Mauritius, Rwanda, Seychelles, Tanzania and Uganda. JLab is engaged in providing customized product range for our customers looking for premium quality Voltameter, where we focus on the latest tools and technology to keep our products upgraded in order to meet the industry requirements across diverse regions in India as well as abroad. JLab is one of the trustworthy and remarkable names in the industry for offering a wide and optimum range of Voltameter. This product is specifically used to measure the electric current in a circuit. In order to offer the best to our respected clients, our products are fully tested by expert professionals to be sure that we are offering industry-demanded quality. Jlab is one of the best Exporter and Manufacturer of Voltameter, Voltameter Manufacturers, and Voltameter Suppliers .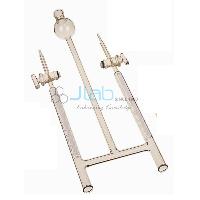 Product Code : JL-V-1700
For demonstrating decomposition of water. This design is preferred for work of best precision. Platinum electrodes are used electrolysis of water. The electrodes are mounted with rubber stoppers for insertion in the open ends of the voltmeter limbs.
View Details