Digital Lab Station Manufacturer,Supplier and Exporter in India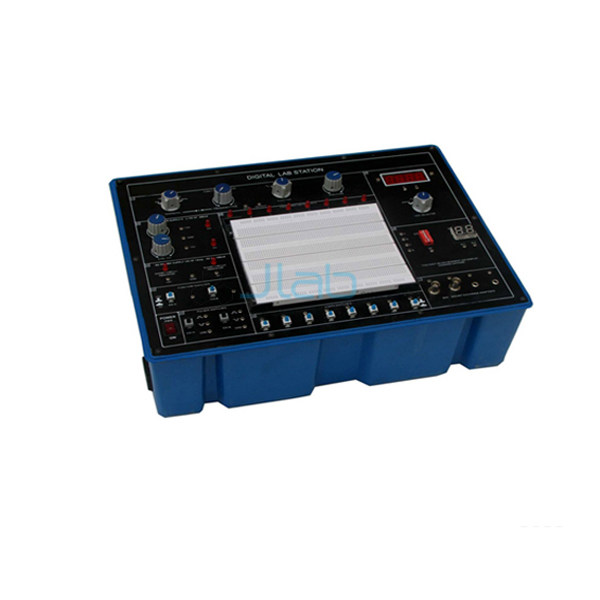 Product Code : JL-BT-1485
Jlab Export is a leading Digital Lab Station Manufacturer,and suppliers in India, Digital Lab Station Manufacturer,and suppliers in South Africa.Digital Lab Station Suppliers in Mozambique,Digital Lab Station A quality product from Jlab ideal for use in School Laboratories in developing countries of Asia, Africa and South Africa in Supplier Kenya, Southern African region, Botswana, Lesotho, Malawi, Angola, Namibia, Zambia, Zimbabwe. Djibouti, Ethiopia,Madagascar, Mauritius, Rwanda, Seychelles, Tanzania and Uganda.
Digital Lab Station
Experimental Coverage:
Logic gates operation
To prove De-Morgan's theorem with Boolean logic equations
Binary to Gray code conversion
Gray code to Binary conversion
Binary to Excess-3 code conversion
Binary Adder and Sub tractor
Binary Multiplier
EX-OR gate implementation
Application of EX-OR gate
Johnson Counter
To verify the dual nature of Logic Gates
Study of Flip-Flops RS, JK, D&T
Multiplexer and De multiplexer
4 Bit Binary up and down counter
Study of 8 to 3 Line Encoder
Study of 3 to 8 Line Decoder
Study of Shift Register (SIPO)
CMOS-TTL Interfacing
Study of Crystal oscillator
Study of pulse stretcher circuit
4 Bit Ring Counter
Modulo 12 Counter By Direct Clearing
Decade counter
Shift Register SISO and PIPO
Digital Lab Station Manufacturer India, Digital Lab Station Exporters, Electronics Digital Lab Station, Buy Digital Lab Station Online India, Educational Equipments for School Lab, Laboratory Equipment Suppliers, Didactic, Didactic Digital Lab Station, Breadboard Trainers Exporters, Scientific Instrument and Equipment Manufacturer.
Download as Pdf