Semi Auto Analyzer Manufacturer,Supplier and Exporter in India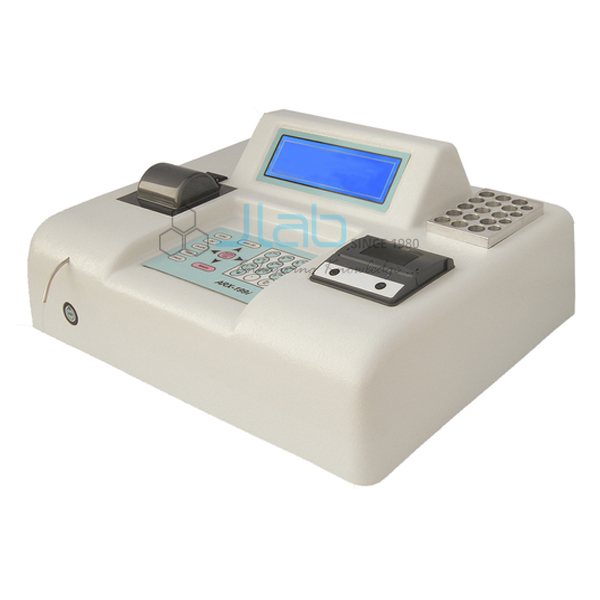 Product Code : JL-BTI-2157
Jlab Export is a leading Semi Auto Analyzer Manufacturer,and suppliers in India, Semi Auto Analyzer Manufacturer,and suppliers in South Africa.Semi Auto Analyzer Suppliers in Mozambique,Semi Auto Analyzer A quality product from Jlab ideal for use in School Laboratories in developing countries of Asia, Africa and South Africa in Supplier Kenya, Southern African region, Botswana, Lesotho, Malawi, Angola, Namibia, Zambia, Zimbabwe. Djibouti, Ethiopia,Madagascar, Mauritius, Rwanda, Seychelles, Tanzania and Uganda.
Semi Auto Analyzer
100 Open Tests
40 X 4 Line LCD Display
Graphical Thermal Printer
28 Quick Access Test Keys
18µl Flow cell Volume
Pettier Controlled Thermostat
Semi Auto Analyzer Manufacturer India, Semi Auto Analyzer Exporters, Pharmaceutical Instruments Semi Auto Analyzer, Pharmaceutical Instruments Exporters India, Pharmaceutical Instruments Suppliers, Pharmaceutical Instruments Manufacturers
User Friendly Software
Auto Lamp Shut Off
Programmable Air Gap Aspiration
Repeat Measurement of Sample in Flow cell
Semi Auto Chemistry Analyzer is a highly sophisticated system for blood analysis.
The instrument is completely controlled by latest microcontroller technology.
It performs biochemistry measurements and processes them according to programs with parameters that can be entered by the operator.
It executes in an economical, rapid and precise manner, most of important biochemistry and haematology tests
The user is provided with a platform so as to perform tests pertaining to Absorbance, End Point, Differential, Kinetic, Fixed Time and Multi standard modes.
Seven narrow band interference filters enable the measurement of common clinical chemical tests.
The 40 x 4 line LCD display is used to display the status and the error/fault messages.
The data and the graphical plot for calibration curves as well as the kinetic tests are available on the in-built thermal printer.
Auto Lamp shut off facility is provided to increase the life of lamp.
Up to 100 different methods, individually programmable are present at any time in the memory of the instrument.
28 quick access test keys are available on the keyboard for faster operations.
High efficiency peristaltic pump is located at the rear for easy access.
The use of latest technology, high quality components, advanced optic system and user friendly software makes Chem. 400 an ideal choice for the modern laboratory.
Totally "Open" 100 test programs are accessible through membrane type soft touch comprehensive keyboard.
Any or all parameters can be changed by the user.
28 most common tests are selectable through quick access test keys.
Six special function keys and complete Numeric keyboard is provided.
A 40 x 4 character LCD display provides a very convenient user interface.
A bright yellow backlit provides a distinct and clear visibility of the data.
The display shows the date, time, error messages, test results, procedural prompts etc.
The operation manual is not required every time as the display guides through every step of operation.
Chem. 400 has in-built thermal printer to print the analytical results as well as program parameters.
The thermal printer used is very fast and noiseless.
An efficient software program provides the maximum information in the minimum possible space thereby reducing the printing cost.
Dual curette compartment provides the flexibility to the user to use either flow cell or curette for sample measurement.
The Flow cell has measuring volume of only 18 µl thus contributes significantly in saving of reagent cost.
The temperature regulation of the sample compartment is done using the politer effect, thus increasing the accuracy.
High precision optical and high quality interference filters are used to provide maximum accuracy and reliability of data.
Our seven interference filter i.e. 340 nm, 405 nm, 505 nm, 546 nm, 578 nm, 630 nm, 670 nm are provided to perform the measurement of common clinical biochemical tests.
The stepper motor controlled filter wheel enables dichromatic measurement of end point and multi standard assays.
The latest technology microcontroller and a high stable optical system provide optimum accuracy and precision in results.
Automatic system checks for Optical System, Filter Wheel, Printer and Data Memory are performed.
The self test reports are available on LCD as well as printer.
Thermal printer used is capable of providing the graphical plot for the Kinetic, Fixed Time and Multi standard tests, the linear and polynomial regression analysis techniques are used to increase the reliability and accuracy of results.
Specifications:-
Optiacal System:-

Light Source

6V, 10W Halogen Lamp

Spectral Field

340 - 690 nm

Filter Change

Automatic stepper motor driven

Filters

340, 405, 505, 546, 578, 630, 670 nm + provision for the user defined filter

Detector

Silicon photo diode

Thermostath

Heating Elements

Refrigerating and heating Peltier cell

Temperature

25 °c, 30 °c and 37 °c selectable

Flow System

Flow cell

18 μl capacity flow through cell

Typical
Working Vol.

500 μl

Min. Working Vol.

350 μl

Intake

Peristaltic pump with programmable intake volume

Curette Option

Available for micro & macro curettes

Measuring System

Measuring Range

0 - 2.500 Abs

Photometric Linearity

± 1% from 0 - 2.000 Abs

Photometric Accuracy

± 0.005 Abs. from 0 - 0.500 Abs,
± 1.0% from 0.501 - 2.500 Abs

Wash Function

Programmable volume

Measuring Method

End Point, Differential, Kinetic, Fixed Time, Multistandard, Absorbance modes (Mono or Bichromatic), Coagulation.

Calibration

Automatic against standard

Zero Abs

Automatically set

Data Display and Programming

Keyboard

57 Keys, Soft Touch Membrane type

Quick Test Keys

28 quick test keys, defining the most commonly used tests

Display

40 x 4 character back illuminated alphanumeric LCD

Thermal Printer

Built in high 2" resolution thermal printer with graphics capability

External Printer

Centronics Parallel Interface for dot matrix printer.

Memory Capacity

100 test programs (All open)

Serial Output

RS232C standard

Physical Features

Power

230 V ± 10% AC, 50/60Hz

Dimensions
(L x B x H)

470 x 365 x 85 mm (Approx.)

Weight

11 Kg. (Approx.)

Sample Storage

Sample
Storage

For 100 sample with patient name and
number (ID) printing option.

Quality Control

Quality
Control

For 100 sample with patient name and
number (ID) printing option.
Download as Pdf