CNC Trainer Milling Machine Manufacturer,Supplier and Exporter in India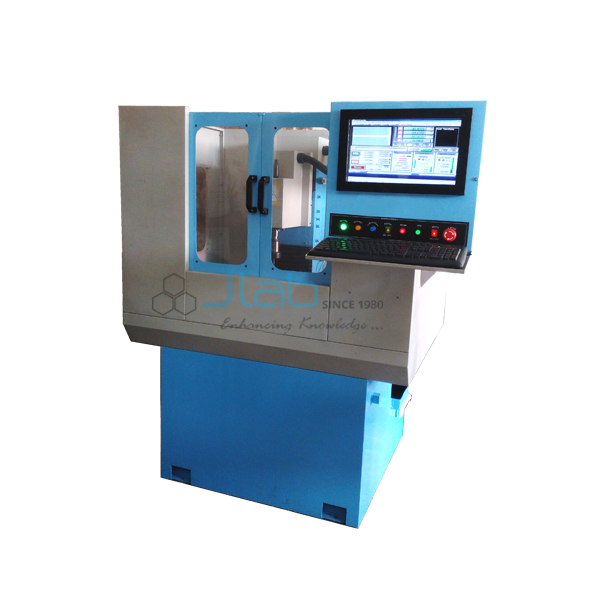 Product Code : JL-CTM-9025
Jlab Export is a leading CNC Trainer Milling Machine Manufacturer,and suppliers in India, CNC Trainer Milling Machine Manufacturer,and suppliers in South Africa.CNC Trainer Milling Machine Suppliers in Mozambique,CNC Trainer Milling Machine A quality product from Jlab ideal for use in School Laboratories in developing countries of Asia, Africa and South Africa in Supplier Kenya, Southern African region, Botswana, Lesotho, Malawi, Angola, Namibia, Zambia, Zimbabwe. Djibouti, Ethiopia,Madagascar, Mauritius, Rwanda, Seychelles, Tanzania and Uganda.
CNC Trainer Milling Machine
Specification:-
Table

Size 200 mm X 600 mm
No. width of T slot 3/12/28mm,
Max safe load on table 100 Kg.

Traverses

X Axis 400 mm, Y Axis 150 mm, Z-Axis 300 mm,
Distance from Table to Spindle face 200 mm

Feed Rates

Cutting Feed Rates 01 - 4000 mm/min,
Rapid feed Rates X, Y, Z Axis 2/2/2m/min

Spindle Rates

Speed 80 - 4000 rpm, Max Power 3 HP.

Taper

Single Tool, Manual Tool Changing System

Accuracy

Positioning ±0.05, Repeatability ± 0.05

Control System

PC Base Mach3 CNC Controller

Others

Total Connected Load 5 KVA, Power Supply 415V, 50 Hz, 3 Phase

Defines G, M, T, F, I, S, J, K codes all necessaries & consumables standard, 4 set of high-speed Input (50m sec), 1 set of Analog Output Signal Master / Slave Mode, USB Disk Compatible Interface with PC through RS232, Graphical Simulation.

User

College Trainer / Toolroom Machine Shop, Diamaker.
Contact JLab Export for your Educational School Science Lab Equipments. We are best engineering educational equipments, high school science lab equipment manufacturers, lab equipment exporters, lab equipments manufactruers, lab instruments manufactruers, mathematics lab equipments manufacturer. Download as Pdf