Implant Models Manufacturer, Suppliers and Exporter in India
Jlab Export is a leading Implant Models Manufacturer,and suppliers in India, Implant Models Manufacturer,and suppliers in South Africa.Implant Models Suppliers in Mozambique,Implant Models in Supplier Kenya, Southren African region, Botswana, Lesotho, Malawi, Angola, Namibia, Zambia, Zimbabwe. Djibouti, Ethiopia, Kenya, Madagascar, Mauritius, Rwanda, Seychelles, Tanzania and Uganda. Jlab is renowned Exporter and Manufacturer of Implant Models, Implant Models Suppliers, Implant Models Manufacturers throughout the world to be used in Schools, College and Universities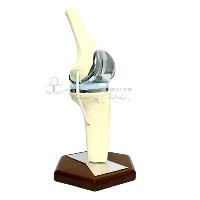 Product Code : JL-IM-319
This impressive model shows three scaled down knee models. In addition to the healthy knee, this model shows a diseased knee, as well as a knee with implant.
View Details
Product Code : JL-IM-320
Life size human Hip Implants Model includes artificial, flexible ligaments & demonstrates different movements of hip like ante version, retroversion, abduction & internal/external rotation etc.
View Details