Microprocessor Dissolution Test Apparatus Manufacturer,Supplier and Exporter in India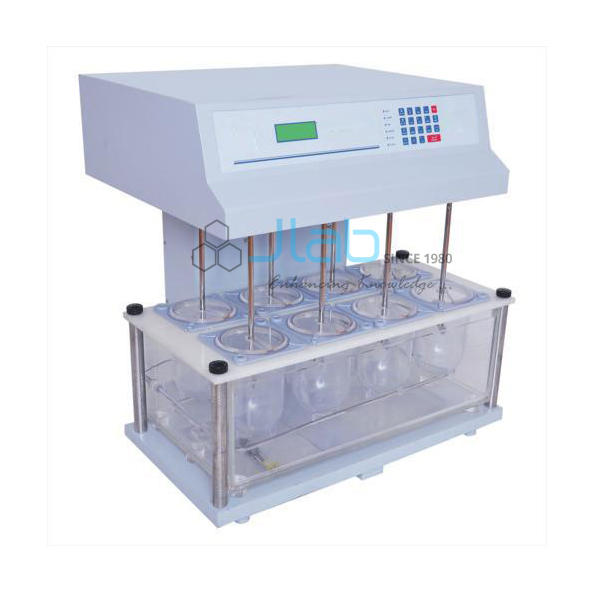 Product Code : JL-DTA-2210
Jlab Export is a leading Microprocessor Dissolution Test Apparatus Manufacturer,and suppliers in India, Microprocessor Dissolution Test Apparatus Manufacturer,and suppliers in South Africa.Microprocessor Dissolution Test Apparatus Suppliers in Mozambique,Microprocessor Dissolution Test Apparatus A quality product from Jlab ideal for use in School Laboratories in developing countries of Asia, Africa and South Africa in Supplier Kenya, Southern African region, Botswana, Lesotho, Malawi, Angola, Namibia, Zambia, Zimbabwe. Djibouti, Ethiopia,Madagascar, Mauritius, Rwanda, Seychelles, Tanzania and Uganda.
Microprocessor Dissolution Test Apparatus
Features:-
8 Station
6 Station
Complies with USP, IP specifications
Extremely Useful for Pharmaceutical Labs
Highly Accurate and Easy to Operate
Programmable Stirrer Speed Control i.e. (25 - 200 RPM)
20 x 4 Line Alphanumeric LCD with Backlit
19 Soft Touch Membrane Type Keys
Three Programming Modes i.e. Routine, Sustain and Control
20 Independent Programmable Setups for Routine and Sustain Mode with Storage Facility
200 Samples Storage Facility
Printer Attachment Facility
Audio Visual Indicators for System Status
Easy to Empty & Clean the Water bath with Bottom Drainage
Continuation of Last Sample Run in case of Power Failure
Microprocessor Dissolution Test Apparatus is a solid state instrument designed for the determination of active drug ingredient in any pharmaceutical formulation, tablet or capsule as per IP and USP specifications.
This apparatus evaluates adequate bio-availability and provides necessary information to formulate in the development of therapeutically optimum dosage forms.
The instrument is designed and manufactured for pharmaceutical industries.
It is used in quality control and R & D to determine compliance with the dissolution requirement of the Tablet and Capsule as per USP/IP standards.

Instrument uses the latest microprocessor technology and advanced engineering techniques so as to give enhanced accuracy and reproducibility.
The system has user friendly prompts, which guide you throughout the measurement process.

System is equipped with 4 line alphanumeric LCD display with backlit and 19 soft touch membrane type keys that provides a convenient interface for entering the data.
Independent stirrer and platform keys on the front panel allow the user to easily start/stop stirrer movement or displacement of platform in the required direction at any time.

The instrument has the storage facility for 200 samples.
The samples being analyzed are automatically stored in the memory in different batch and sample numbers.
The system has three programming modes i.e. Routine, Sustain and Control mode.
It has the facility for setting up 20 different test methods using Routine and Sustain modes which are retained in the memory even when the power is switched OFF.
Provision has also been made for attachment of any dot matrix printer with centronics interface so that any of the stored setups/results can be printed.

The unit is provided with dissolution vessel with cover, having necessary arrangement to hold temperature sensor and the same is placed in the sturdy, acrylic water bath.
The large spread out stainless steel heater ensures perfectly uniform heating.
The instrument has dual channel temperature system with sensors to monitor the test temperature of dissolution vessel as well as that of the water bath.

The motorized platform's (stirrer unit) up/down movement of the instrument improves the accessibility for sampling. Stirrer speed is accurately controlled and maintained at +1 rpm by microcontroller as per IP, USP specifications.

The elapsed time for the current ongoing test is retained in the instruments memory.
In case of power failure during the run mode, when the instrument is switched
On again, the user has the option to run the test from the point of the power failure.
Microprocessor Dissolution Test Apparatus Manufacturer, Microprocessor Dissolution Test Apparatus Suppliers, Microprocessor Dissolution Test Apparatus India, Microprocessor Dissolution Test Apparatus Exporter, Dissolution Test Apparatus, buy Microprocessor Dissolution Test Apparatus, Microprocessor Dissolution Test Apparatus, Analytical Research Equipment, buy Microprocessor Dissolution Test Apparatus Online India
Specifications:-
General

Stations

8 Stations
6 Stations

Display

20 x 4 Line Alphanumeric LCD display with Backlit

Keyboard

19 soft touch membrane keys

LED'

6 LED's, 3 LED's for Test status like Run, Alarm, End and 2 LED's for Platform up/down status and one for heater ON/OFF status.

Prog. Mode

Routine, Sustain and Control mode. Facility for 20 different test setups available in Routine and Sustain mode.

Printer

Provision for the attachment of dot-matrix printer with centronics parallel port interface available.

Stirrer

Speed

25 - 200 RPM, + 1 RPM

Resolution

1 RPM

Accuracy

+ 1 RPM

Temperature

Range

30 - 50 oC

Accuracy

+ 1 oC

Temp. Control

Microprocessor Based using PT100/Semiconductor Sensor

Sampling

Reaction Vessel

1000 ml jars with stirrer pedals and baskets

Heater

1 KW

Power

230 V ± 10%, 50 Hz. AC

Accessories

Main Unit with Acrylic Tank and Rectangular Cover Plate and Water Bath Temperature Sensor (T1)

External Temperature Sensor (T2) for Vessel

Reaction Vessel capacity 1000 ml

(8 Nos. in Model - 1918 and (6 + 1) Nos. in Model - 1916)

Round Acrylic Cover Plate with Hole and a large slit

(8 Nos. in Model - 1918 & 6 Nos. in Model - 1916)

S.S. Paddle, S.S Wire Mesh Basket

(8 Nos. in Model - 1918 & 6 Nos. in Model - 1916)

Glass pipettes with rubber bellows

Mains Lead

Instruction Manual

Dust Cover
Download as Pdf