Animals CD Rom Manufacturer,Supplier and Exporter in India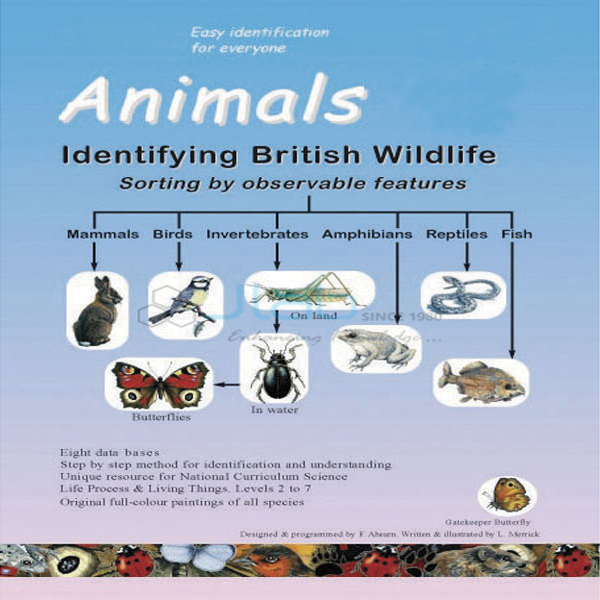 Product Code : JL-AE-6704
Jlab Export is a leading Animals CD Rom Manufacturer,and suppliers in India, Animals CD Rom Manufacturer,and suppliers in South Africa.Animals CD Rom Suppliers in Mozambique,Animals CD Rom A quality product from Jlab ideal for use in School Laboratories in developing countries of Asia, Africa and South Africa in Supplier Kenya, Southern African region, Botswana, Lesotho, Malawi, Angola, Namibia, Zambia, Zimbabwe. Djibouti, Ethiopia,Madagascar, Mauritius, Rwanda, Seychelles, Tanzania and Uganda.
Animals CD Rom
Animals is a program for easy identification of common British Animals and fulfil many of the requirements of National Curriculum Science, Life Process and Living Things, Key Stage 2 and 3 and Information Technology.
Mammals, Birds, Land Invertebrates, Water Reptiles, Invertebrates, Butterflies, Amphibians and Freshwater Fish.
Step by step identification of creatures most likely to be found in school grounds, parks, gardens, ponds, rivers and lakes.
It has been created by a teacher for teachers and is artistically unique in that all the animal pictures are full-colour original illustrations.
Easy identification of animals for everyone.
Original full-colour illustrations of all species, combining beauty with biological accuracy.
Animals CD Rom provides the following:
Details of Animals: Latin Name, Class, Order, distribution, lifestyle and habitat.
Interactive investigations:-
Creating Keys.
Food Webs.
Classification, Adaptations and others.
Spreadsheets: Prepared and ready for recording animals.
Animals CD Rom is presented in an A5 folder, which holds a Teacher's Project Sheet and ten photocopiable worksheets for pupils.
Animals CD Rom India, Animals CD Rom Manufacturer, Biology Lab Equipments, Biology Equipments Animals CD Rom, Animals CD Rom Suppliers, Animals CD Rom Export, Educational Biology Equipments, Animal Equipments Animals CD Rom, Animals CD Rom Online, buy Animals CD Rom, Animals CD Rom Manufacturer, buy Animals CD Rom Online India.
Contact JLab Export for your Educational School Science Lab Equipments. We are best educational lab equipments exporter, educational lab equipments manufacturers, educational lab equipments supplier, educational lab equipments suppliers, educational lab export, educational lab exporter.
Download as Pdf