Unsymmetrical Bending Apparatus Manufacturer,Supplier and Exporter in India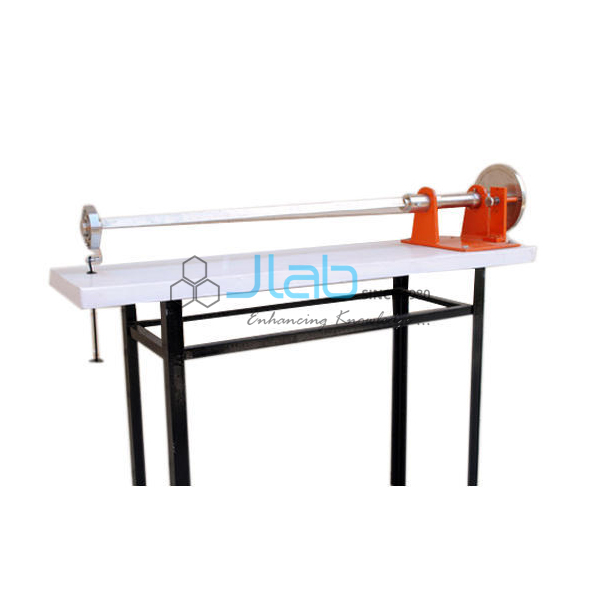 Product Code : JL-SML-10082
Jlab Export is a leading Unsymmetrical Bending Apparatus Manufacturer,and suppliers in India, Unsymmetrical Bending Apparatus Manufacturer,and suppliers in South Africa.Unsymmetrical Bending Apparatus Suppliers in Mozambique,Unsymmetrical Bending Apparatus A quality product from Jlab ideal for use in School Laboratories in developing countries of Asia, Africa and South Africa in Supplier Kenya, Southern African region, Botswana, Lesotho, Malawi, Angola, Namibia, Zambia, Zimbabwe. Djibouti, Ethiopia,Madagascar, Mauritius, Rwanda, Seychelles, Tanzania and Uganda.
Unsymmetrical Bending Apparatus
Description:-
Apparatus consist of an angle of size 1" x 1" x 1/8" or in equivalent metric units of length 80 cm is tied as a cantilever beam.
The beam is fixed at one end such that the rotation of 450 intervals can be given and clamped such that the principal axis of its cross-section may be inclined at any angle with the horizontal and vertical planes.
Also arrangement is provided to apply vertical load at the free end of the cantilever and to measure horizontal and vertical deflection of the free end.
A dial gauge with magnetic base is supplied with the apparatus.
Experiment Manual:-
To study the behavior of a cantilever beam under symmetrical and unsymmetrical bending.
Using a Dial gauge shown a increasing and decreasing of heights.
Download as Pdf