Digital Oscilloscope Manufacturer,Supplier and Exporter in India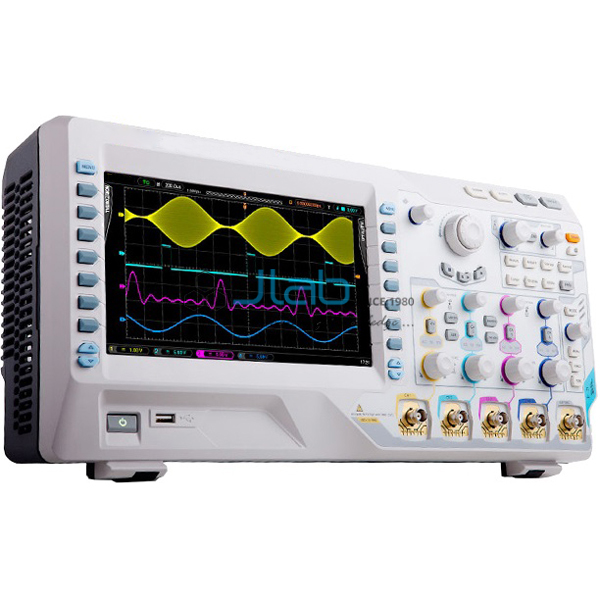 Product Code : JL-O-10378
Jlab Export is a leading Digital Oscilloscope Manufacturer,and suppliers in India, Digital Oscilloscope Manufacturer,and suppliers in South Africa.Digital Oscilloscope Suppliers in Mozambique,Digital Oscilloscope A quality product from Jlab ideal for use in School Laboratories in developing countries of Asia, Africa and South Africa in Supplier Kenya, Southern African region, Botswana, Lesotho, Malawi, Angola, Namibia, Zambia, Zimbabwe. Djibouti, Ethiopia,Madagascar, Mauritius, Rwanda, Seychelles, Tanzania and Uganda.
Digital Oscilloscope
Description:-
JLAB4000 has 2+16 or 4+16 channels, target for the embedded design and test market with its industry leading specifications, powerful trigger functions and broad analysis capabilities.
JLAB4000 series is the new mainstream digital scope to meet the customer's applications with its innovative technology.
Features:-
Hardware real-time waveform record, playback and analysis functions (standard up to 200,000 frames).
Lower noise floor, the minimum vertical sensitivity is 1mV/div.
Innovative "UltraVision" technology.
A variety of trigger and bus decoding functions (both analog and digital channels).
Supports bandwidth update for 200 MHz and 350 MHz bandwidth models.
Bandwidth: 500 MHz, 350 MHz, 200 MHz, 100 MHz.
Real-time Sample Rate: analog channel up to 4 GSa/s, digital channel up to 1 GSa/s.
Complete Connectivity: USB HOST & DEVICE, LAN (LXI-C), VGA, AUX, USB-GPIB (optional).
9 inch WVGA (800×480), 256 level intensity grading display.
Standard Memory Depth: analog channel up to 140 Mpts, digital channel up to 28 Mpts.
2 or 4 analog channels, 16 digital channels.
Waveform capture rate up to 110,000 waveforms per second.
Download as Pdf