Field Trip Microscope with Wooden Carrying Case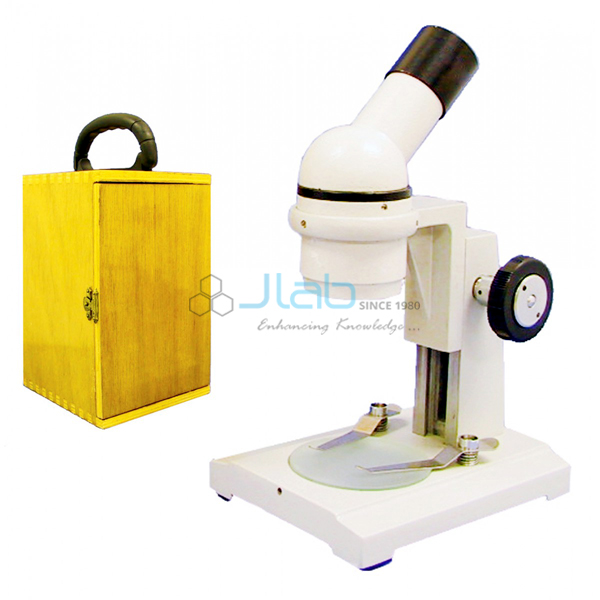 Product Code : JL-M-8039

Field Trip Microscope with Wooden Carrying Case
Description:-
This beginner dissecting microscope is ideal for both indoor and outdoor use and can provide upright imaging.
It contains a locked-on 10X Wide-Field eyepiece with a 2X objective which provides a total magnification of 20X.
It is excellent for examining insects, pond water, rocks, plants and other specimens.
Microscope contains a unique optical system which requires no light and is portable and easy to use.
Durable all-metal frame with wooden carrying box.
Specification:-
Viewing Head: Monocular head, inclined at 45°.
Eyepiece: Locked-on 10X Wide-Field eyepieces, the field of view Glass optics provide quality images.
Focusing System: Coarse focus control with rack and pinion mechanisms. Focus knob tension adjustment by an included wrench. Working distance is 5.5cm. Slip-clutch for focusing assembly to prevent damage to the rack and pinion mechanism.
Objectives: the 2X objective is installed under the microscope which provides a magnification of 20X.
Design: All-metal frame, 8.5"h x 6"w x 5.5" l wooden case included.
Stage:- 9 x 12cm stage with a 5.5cm diameter glass plate for ease of adjusting the slide. Locked-on, spring-loaded stage clips for exact positioning of the specimen.
Illumination: Ambient light reflected from stage plate is used as a source of illumination. No batteries required.
Download as Pdf