Atwood Machine Manufacturer,Supplier and Exporter in India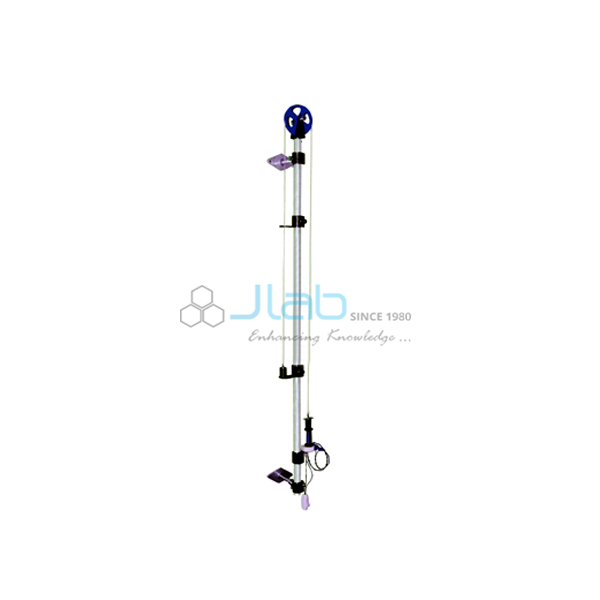 Product Code : JL-TWL-9164
Jlab Export is a leading Atwood Machine Manufacturer,and suppliers in India, Atwood Machine Manufacturer,and suppliers in South Africa.Atwood Machine Suppliers in Mozambique,Atwood Machine A quality product from Jlab ideal for use in School Laboratories in developing countries of Asia, Africa and South Africa in Supplier Kenya, Southern African region, Botswana, Lesotho, Malawi, Angola, Namibia, Zambia, Zimbabwe. Djibouti, Ethiopia,Madagascar, Mauritius, Rwanda, Seychelles, Tanzania and Uganda.
Atwood Machine
Specification:-
It is used to study the motion under the effect of gravity of two mass systems connected through a lightweight cord, one on either side of a simple pulley.
This apparatus comprises 2 long metals rods.
A scale 0- 245-1cm continues from the top of the rod with a pulley to the bottom of the second rod.
Complete set includes electromagnetic release arrangement, set of 2 pairs of masses, Loading Masses 1g, 2g, table/ring brackets, wall mounting clamps and lightweight cord.
One rod having a well-balanced 10cm pulley mounted at its one end on near-frictionless bearings and threads at other ends for attaching it to the second rod to get a total working length of 245cm.
Contact JLab Export for your Educational School Science Lab Equipments. We are best educational lab equipments manufactruers, educational lab instruments manufacturer, educational laboratory glassware exporter, educational laboratory microscopes, educational laboratory suppliers, educational scienitific lab equipments.
Download as Pdf