Monocular Compound Microscope Manufacturer,Supplier and Exporter in India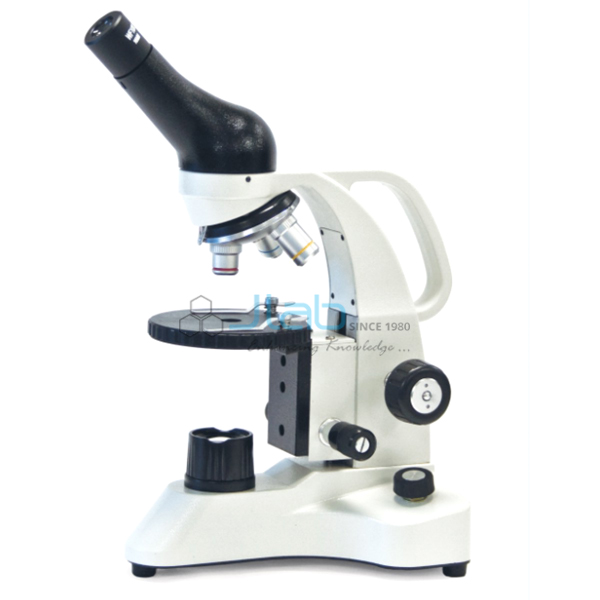 Product Code : JL-M-8057
Jlab Export is a leading Monocular Compound Microscope Manufacturer,and suppliers in India, Monocular Compound Microscope Manufacturer,and suppliers in South Africa.Monocular Compound Microscope Suppliers in Mozambique,Monocular Compound Microscope A quality product from Jlab ideal for use in School Laboratories in developing countries of Asia, Africa and South Africa in Supplier Kenya, Southern African region, Botswana, Lesotho, Malawi, Angola, Namibia, Zambia, Zimbabwe. Djibouti, Ethiopia,Madagascar, Mauritius, Rwanda, Seychelles, Tanzania and Uganda.
Monocular Compound Microscope
JLab monocular compound microscope is the ultimate educational tool with top optical quality and durability.
A conveniently placed handle on the arm allows for easier mobility and hassle-free transfer from place to place.
The modern and versatile design makes it an ideal choice for students.
The WF 10X allowing for increased magnification from 40X to 400X.
A round floating stage helps to make it simple for children to adjust and control the slide under observation.
The ball-bearing objective turret is mounted, allowing for smooth alignment while positive click stops ensure instant and precise magnification.
Packed in a fitted Styrofoam box; includes a dust cover and instruction manual.
Rugged cast aluminum with gray enamel finish.
Specification:-
Head: Monocular, 45° inclined, rotates 360°.
Eyepiece: WF 10X with a pointer.
Download as Pdf